THIS IS THE PLACE TO CREATE YOUR
Welcome to The Mark Hotel
The Mark Hotel has become a firm favourite with Lambton locals and visitors alike. Fully renovated in 2007, the contemporary interior presents a warm and welcoming ambience in a suburban setting.  Our beer garden was also renovated in 2019.
A modern sports bar sits at the front of the hotel, featuring the latest technology, betting facilities and LED screens – the perfect spot for sport lovers.

This suburban hotel is a stylish offering, bustling with local life. It really does hit the Mark!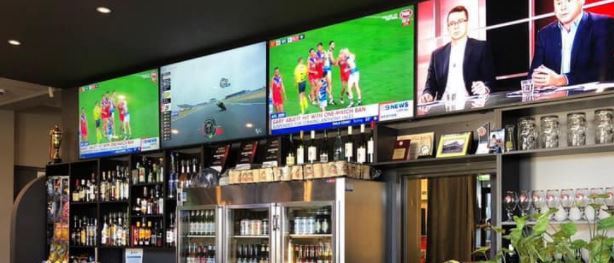 Hotel
Sunday, Mon & Tues 11am – 9pm
Wed & Thurs 11am – 10pm
Friday & Saturday – 11am – Midnight
Bistro
Lunch
Mon – Sun 12pm -2pm
Dinner
Monday – Thurs 6pm -8pm
Fri & Sat 5.30pm – 9pm
Sunday 5.30pm – 8pm
(Bistro Hours may vary)
Drinks
Non-alcoholic Drinks
Menu
Specials
Drinks
Beer on Tap
Great Northern Super Crisp 
Balter Captain Sensible 
Stone & Wood 
4 Pines Pale Ale 
Brookvale Union Ginger Beer 
Tooheys New 
Tooheys Old 
Resches Draught 
V.B
Carlton Dry 
XXXX Gold 
Cascade Light 
Bulmers Apple Cider  
Bottle 
Corona 
Crown Lager 
James Squire 150 Lashes
Little Creature Pale Ale 
Stella 
Guinness
Tooheys X-Dry
Heineken 
Heineken 0%
White Rabbit Dark Ale 
XXXX Summer 
Pure Blonde 
RTD
Canadian Club & Dry 
Jim Beam & Cola 
Jim Beam Black & Cola 
Jack Daniel & Cola 
Bundy & Cola 
Rekordlig Strawberry & Lime Cider
Rekordlig Wild Berries Cider 
Pineapple Cruiser 
Watermelon Cruiser 
Lemon/Lime Cruiser 
Raspberry Cruiser 
White Wine 
Mark Davidson Chardonnay
Farm to Table Sav Blanc
Audrey Wilkinson Sem Sav Blanc
Audrey Wilkinson Moscato 
Wine Lovers Petite Fleur Rose 
Tulloch Verdelho 
Leogate Semillon
Leogate Late Harvest Semillon 
Red Wine 
Mark Davidson Shiraz 
Odd Socks Cab Merlot 
Leogate Balmain 
Leogate Tempranillo 
Cockfighter Ghost Cab Sav 
Non-alcoholic Drinks
Menu
Specials
The Mark Hotel is excited to announce we have re-opened our doors! There are a few changes to be aware of moving forward!